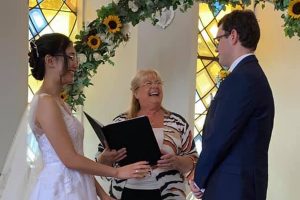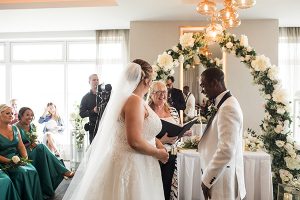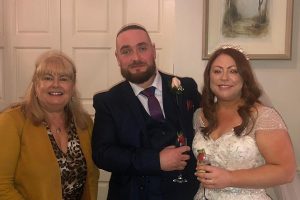 Everyone is always saying how important it is to personalise your wedding….. well it starts with the ceremony because that's one of the first experiences your guests have at your wedding, and a great ceremony sets the tone for a fabulous day ahead. If you really want to personalise your wedding, hire a great celebrant! Couples who hire celebrants are generally spiritual but not necessarily religious and want a ceremony that combines their cultural backgrounds and religious traditions with their own unique identities. They want a ceremony that tells the story of who they are as a couple. They want a ceremony that is meaningful and poignant without being preachy. A great celebrant conducts the ceremony in a warm, vibrant and professional way, communicates a couple's personal story, engages everyone in the room, makes them all feel welcome, and performs intimate and meaningful vows for the couple on their special day.
The wedding ceremony is a wonderful occasion, full of love and joy, and it is a privilege and honour to facilitate all this as a celebrant. I just love my job!!
When it comes to planning the ceremony, I offer four ceremony enhancements: unity candle, sand ceremony, handfasting and ring warming.
The unity candle ceremony uses two taper candles with a large pillar candle (the "unity candle") in the centre. At the beginning of the wedding ceremony, a representative from each family (usually the mothers of the couple) light the two taper candles. The two separate candles symbolise your separate lives, separate families and separate sets of friends; in other words, your lives before today. Lighting the centre candle represents that your two lives are now being joined together as one.
The wedding sand ceremony expresses the coming together of two people or two families into one new family. It is a very simple idea that can be incredibly powerful. Typically, each person has different coloured sand and takes turns pouring the sand into one clear vessel, forming a layered effect. Sometimes just the couple participates and sometimes the couple's children or parents join in with their own coloured sand, adding to the layers of colours and expressing the harmony of the entire family.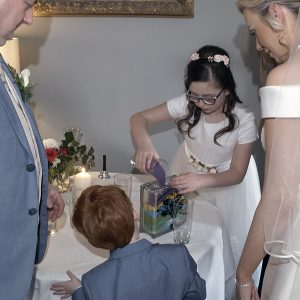 Handfasting is a very popular ceremony enhancement for a lot of couples. It is an ancient Celtic custom. The couple's hands were literally tied together, giving way to the expression 'Tying the Knot'. The knot represents the union of love which grows stronger under pressure. The ceremony has a few variations. For example, you can use one cord and have the hands wrapped by your celebrant or you can choose cords in a variety of colours and have a selection of your guests lay them over the hands. Each colour represents a gift or blessing bestowed upon the marriage. This is a really lovely way to include family and friends in the ceremony.
Incorporating a ring warming into your wedding is such a special way to involve all of your guests in the ceremony. The ring warming provides your loved ones with an opportunity to hold and bestow your wedding bands with a wish, blessing or prayer for your marriage. By the time your rings make it on to your fingers, they will be saturated with the love of your friends and family.